I stumbled upon an article about Avocados. Did you know that there are 13 vitamins that our bodies need to thrive & avocados contain most of them. A few of avocados benefits are that they aid in heart health, lower cholesterol & help promote healthy cell & tissue development. After I read this I decided we need to add more into our diet.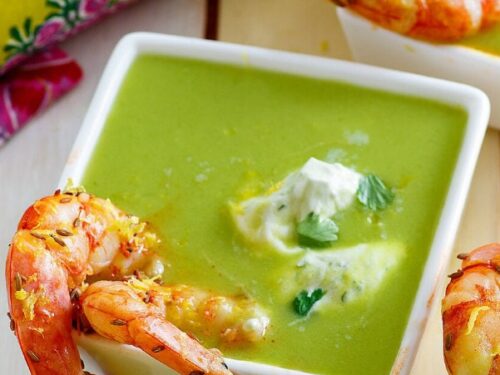 I usually use avocados to make guacamole dip or slice one & tuck it into a sandwich & I sometimes will even put them in an omelet.
Recently I posted about how I've been into eating cold fruit soups this summer; since avocados are a fruit this seemed a natural course to take…so Guacamole Soup was born. I used all the same ingredients that are in guacamole, pureed it with a little chicken stock to loosen it up, added some sauteed cumin shrimp for protein & it became a complete meal in a cup.
GUACAMOLE SOUP W/ SAUTEED CUMIN SHRIMP
serves 4-6
4 ripe avocados, cubed
1 c. chicken stock
1/2 water
juice of 3 limes
1/2 c. cilantro
3/4 tsp. ground coriander
2 tsp. ground cumin
1/2 of a small red onion
1/2 tsp garlic, finely diced
salt & pepper to taste
optional jalapeno (use to taste)
for Shrimp
2 doz. small shrimp, cleaned
1/2 tsp. ground cumin
salt & pepper to taste
Take all the ingredient (except shrimp & tomatoes) & put them in a food processor. Pulse until smooth. If you feel the soup is too thick add more water or stock.
Put Shrimp in a pan & saute until pink about 5 minutes. Sprinkle with salt, pepper & ground cumin coat well.
Place soup in individual bowls or cups, place about 1/4 of diced tomatoes in soup as well as 6 cumin shrimp. Garnish with cilantro & or a tortilla chip.

Enjoy,
D I V A